The Website of Author, Amy McAuley
amymcauley.com
HIGHLIGHTS
Dec/2012:

Smithsonian's Air & Space Magazine:
Violins of Autumn selected as a Favorite Children's Book 2012
Oct. 9, 2013
Violins of Autumn has received more good news. It won the Gold Medal in this year's Moonbeam Children's Book Awards, in the YA Fiction - Historical/Cultural category! :)
In less than two weeks I'll be attending the TD Children's Literature gala in Toronto. I'm already so nervous. I'm hoping to take lots of photos that night.
It's Fall here, and the leaves are changing. We have a large, beautiful park nearby, so I've been taking breaks from my work-in-progress to go walking and jogging. Much needed on so many levels, especially since so many of my favorite TV shows are returning and I tend to turn into a lump during the colder months.
What are you reading? I'm still reading The Diviners, by Libba Bray. Up next, Rose Under Fire, by Elizabeth Wein.
Feb. 18, 2013
Dear Readers: Do any of you ski or snowboard? If so, I am seriously impressed! I'm just back from a ski resort vacation to Blue Mountains, Ontario, where we celebrated my sister-in-law's birthday. Was it ever beautiful there. Our chalet windows gave us an amazing view of the hill, so my daughter and I watched skiers and snowboarders zoom down the double black diamond runs. Surprisingly entertaining! And awe-inspiring. While at the resort I people-watched, skated on a pond, and had a blast watching my kids try to ski for the first time. The hot tub at our chalet, which also had awesome views of the lighted ski runs at night, was much-needed after a day at the village. Luckily, it was a regular hot tub and not a time machine that would send me back to 1986. I never want to witness my teen hair atrocities again in this lifetime! My vacations usually involve sleeping on the ground in a tent and cooking outdoors, so the ski chalet stay was a nice change of pace. ;-)
Recent Reads: I devoured Under the Never Sky, by Veronica Rossi. For fans of post-apocalyptic novels, I highly recommend this one!!
Recent Reviews: The Horn Book Guide says Violins of Autumn is "accessible, fast paced, and filled with derring-do..." Derring-do! Love that word.
Sept. 7, 2013
Yesterday, the Canadian Children's Book Centre announced the finalists for its seven major book awards, and guess what? Violins of Autumn is a finalist for the Geoffrey Bilson Award for Historical Fiction! I found out seconds before I had to leave the house to run errands, and I literally couldn't stop smiling the whole way to Costco. Then once I got there I just meandered through the aisles in a daze, unable to remember what stuff I needed to buy in mass, bulk quantities. This is my first nomination, so to say I was surprised! and thrilled! is an understatement. By the end of the day I had a headache from levels of giddiness my brain is unaccustomed to, excessive smiling, and stress-induced squinting after realizing I'll have to attend an amazing dress-up gala with lots of people. (Note: I am an introvert!!) One of the best things about the gala is that I'll get to meet the other finalists, some of whom are friends I've known for years online. Congratulations to all the nominees! 
Wed. Dec. 5, 2012   
The end of the year is a time for celebrating holidays, eating way too many holiday treats (well, not me… noooo, never), and hibernation (what… other people don't hibernate until April? It's just me??). The end of the year is also time for Best of the Year lists. And this year, Violins of Autumn made it onto one of those lists! The Smithsonian's Air and Space Magazine's favorite children's books of 2012. Cool, eh? I thought that was a very nice surprise. 
Mon. Nov. 26, 2012
I got my copy of Canadian Children's Book Centre's latest issue of Book News in the mail today, and I was so thrilled with their review of Violins of Autumn! Here's a snippet: "McAuley's wartime novel has an almost cinematic quality that transports readers into the heart of Paris in the months leading up to D-Day and the Allies' invasion. …It is at once a thrilling spy story, a dramatic coming-of-age tale and a story that is as much about love and friendship as it is about the hardships of war." LOVE!
Tues. Oct. 2, 2012
Librarian reviewer, Ms. Yingling, calls Violins of Autumn, "the best thing I have read for a while." Woo! J
It's October. Already. Wow! I'm sad to see Summer end, but my city, which is nicknamed "The Forest City" is gorgeous in the Fall. I'm hoping to get out on my bike to take photos of the changing leaves. Also, don't forget to enter the Violins of Autumn giveaway on Goodreads! Giveaway is open to the US and Canada.
July 19/2013
Hello, everyone! It's summer! *excitedly flails arms like Kermit*
We are at the end of a heat-wave. I love hot weather, but this is pretty crazy. Are you staying cool? Are you reading any good books? I think I read a Stephen King novel every summer break. And a bunch of pastel-hued Sweet Valley High paperbacks, of course. Man, how I loved the Wakefield twins, despite the fact that they were spectacularly gorgeous, didn't have a single ounce of body fat between them, and they were blessed with flawless sun-kissed skin, sparkling blue-green eyes, and the blond hair of goddesses. Young adult novels have come a long way since the '80s, my friends! ;-)
Since my last post, I've visited Las Vegas for the first time. What a crazy, strange, and amazing place. I can't wait to go back there someday. And the other day I went to a Pearl Jam concert. Amazing, as their concerts always are! I can't believe the first time I saw them was at Lollapolooza, way back in 1992! Some of you reading this weren't even alive yet then! lol
Book I just finished reading: Chantress, by Amy Butler Greenfield. A wonderful mix of magic and historical fiction, this book—the first in a trilogy—hooked me at page 1.
Book I'm currently reading: The Diviners, by Libba Bray.
Gold Medal: Moonbeam Children's Book Awards for YA Fiction Historical/Cultural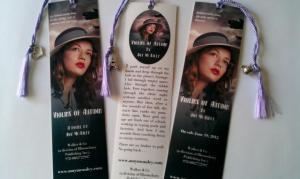 Jan. 9, 2014
Hi all. Happy New Year!! Just a quick note about last month's charm bookmark offer. The bookmarks have gone out, so readers who requested one should be receiving it within the next few weeks. Also, they are glossy, like photographs, so please try to prevent them from getting wet.

Wishing you all the best in 2014! Read lots of great books! My fat orange cat assistant and I are busy writing a new book that takes place in the early 1900s, and it requires a lot of research. So, I'd better get back at it... :)
Dec. 1, 2013
Special offer: If you are giving Violins of Autumn as a gift this holiday season (between December 1-31) and you'd like to include a signed, custom charm bookmark, email your contact info to:
amy@amymcauley.com
June 26, 2015
My first book, Over and Over You, was published ten years ago. I'm happy to announce that it will be released as an ebook on July 7! The book has been out of print for quite a while, so I'm really excited that it's getting this second life.
Over and Over You is about a teen, Penny Fitzsimmons, who discovers she has been in love with the same boy for the past thousand years. In every lifetime -- over and over again -- her mysterious boyfriend is present and so is her best friend, Diana. Both die young and their deaths are always Penny's fault. Can Penny change their fate--and her own? Kirkus Reviews summarized the book this way: Never becoming too far-fetched, McAuley's debut braids the three ribbons of fantasy, mystery and romance into an enjoyable plait that is as smart as it is entertaining. Supernatural and real.
Over and Over You is special to me. It was my first published book. And it takes place in a small beach town similar my hometown, Kincardine, Ontario. I'm glad the ebook is being released in July, because it really is a Summer Book. If you're looking for a fun beach read, it will be available on Kindle and Kobo.
 Enjoy your summer!